Free Boardwalk Entertainment Continues this Summer at Kennedy Plaza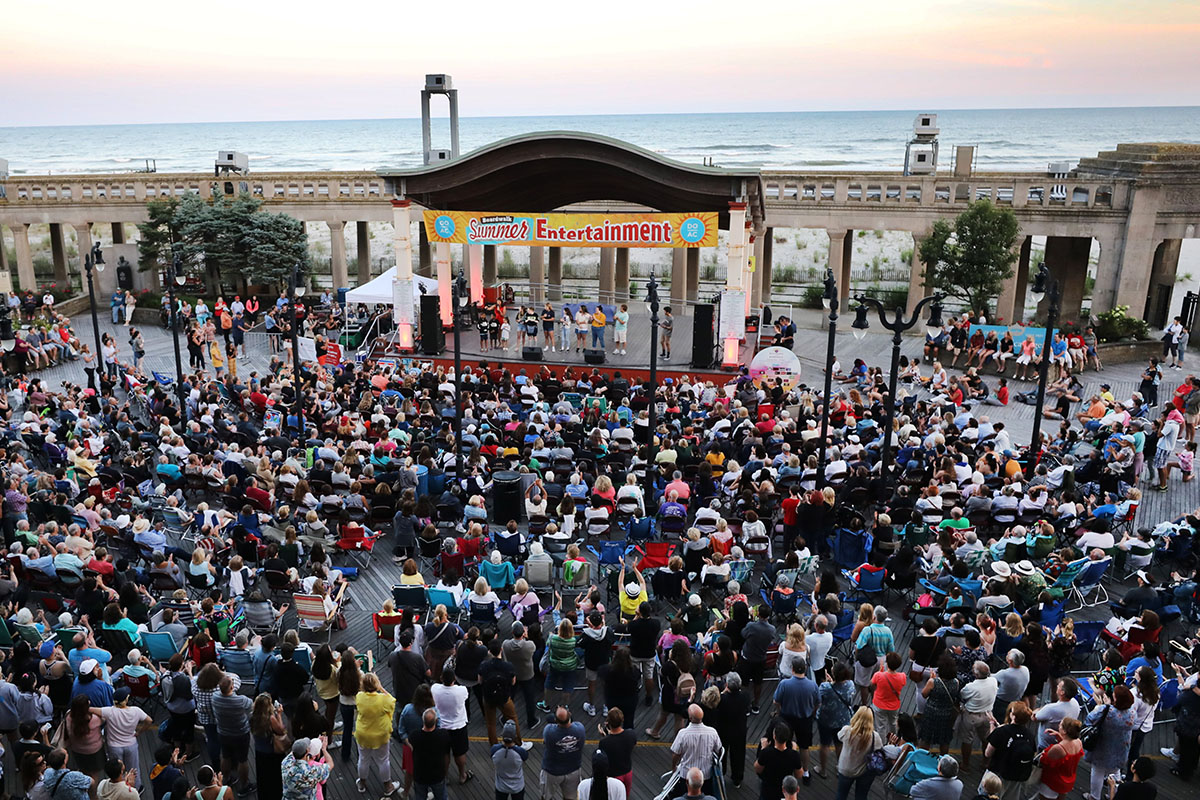 July 6, 2022
Atlantic City, NJ (July 6, 2022) – The Atlantic City Boardwalk will be alive several nights a week this summer with free LIVE music, courtesy of the Casino Reinvestment Development Authority (CRDA).
Free entertainment takes place now through September 1 at Kennedy Plaza across from Jim Whelan Boardwalk Hall. Atlantic City residents and visitors will enjoy performances from genres including Broadway, Rock & Roll, Jazz, Rhythm & Blues and everything in between.
Broadway on the Boardwalk is back by popular demand for eight consecutive Monday nights July 11 through August 29. The casts of Broadway's hottest musicals take the stage with free performances from some of the most popular and critically acclaimed musicals on Broadway today.
Mardi Gras AC, a favorite summer staple presented by Tony Mart, will take place at Kennedy Plaza every Wednesday night, from June 29 through August 31. These musical celebrations feature World Class Funk, New Orleans Rhythm and Blues, Classic Rock, Roots Rock, Grammy Award winners and the best Jersey Shore Rock and Roll concerts.
Chicken Bone Beach Jazz Concert Series returns to Kennedy Plaza on Thursday nights, July 7 through September 1. These Thursday night shows present world-class concerts that appeal to residents and visitors who are attracted to heritage and cultural entertainment.
For more information on CRDA's Boardwalk Summer Entertainment, visit https://www.atlanticcitynj.com/boardwalk-entertainment/ or call 1-888-AC-VISIT (228-4748).
###
About the Casino Reinvestment Development Authority
The only agency of its kind nationwide, the CRDA has used Atlantic City casino reinvestments as a catalyst for meaningful, positive improvement in the lives of New Jersey residents since 1984. Under the 2011 Tourism District Act, the Authority's mission evolved from statewide projects to becoming the state's key economic development agency for Atlantic City. CRDA's expanded responsibilities now include land use regulation, tourism marketing and clean and safe initiatives. The CRDA also oversees Historic Boardwalk Hall (the leading entertainment venue of its size in the country) and the Atlantic City Convention Center. In total, CRDA has invested nearly $2 billion in more than 400 projects statewide, of which $1.8 billion has been invested in Atlantic City, spurring business investments and expansions, and creating permanent jobs in the process. For more information about CRDA and our projects, visit www.njcrda.com, and follow us on Facebook and Twitter.
For complete Atlantic City tourism information, visit www.atlanticcitynj.com, and follow us on Facebook, Twitter, and Instagram.