There's a Lot to Love About Atlantic City in March!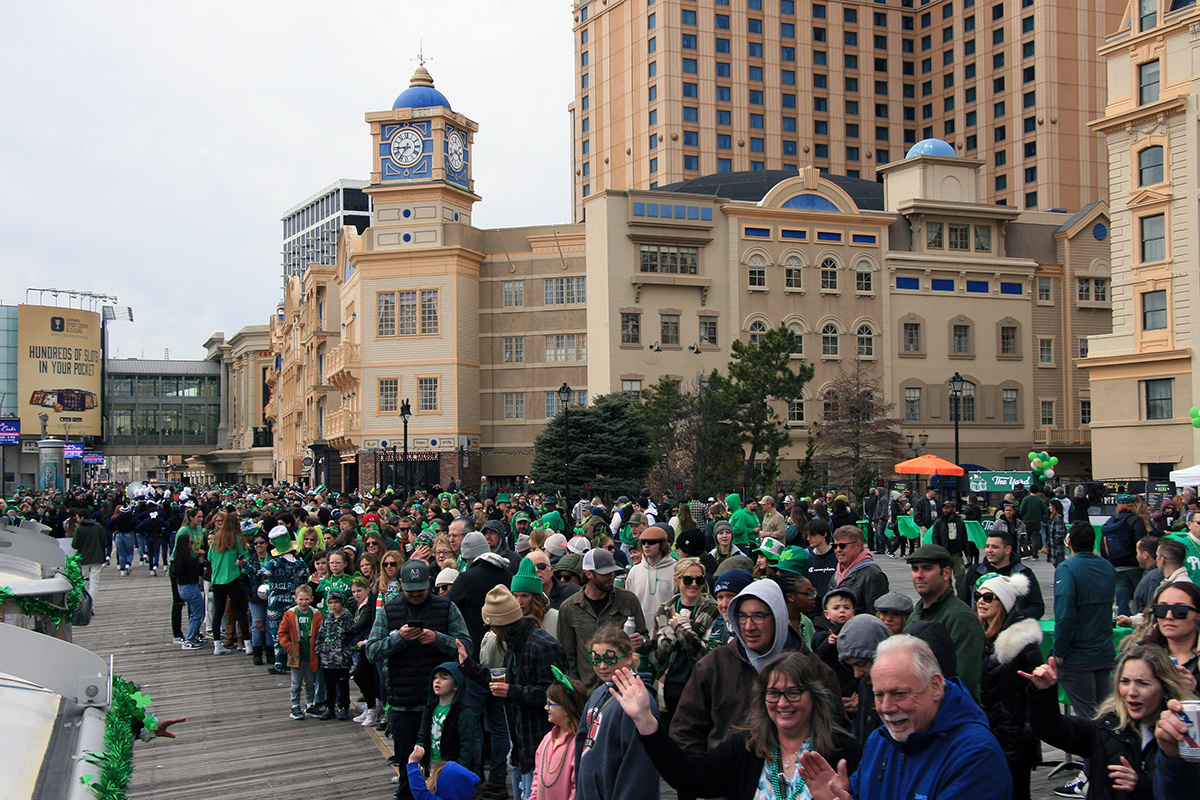 March 16, 2023
ATLANTIC CITY, NJ – (March 13, 2023) – Clovers, shamrocks and revelry took center stage on the world-famous Boardwalk with the return of Atlantic City's beloved St. Patrick's Parade on Sunday, March 12. While the day filled with floats, beads, and lots of green is now in the rearview mirror, there is still a lot of fun ahead in the resort destination all month long!
As the first day of spring approaches, visitors will love all the exciting ways to play and be entertained in Atlantic City. In March, you can find your pot of gold with St. Patrick's Day celebrations and pub crawls, March Madness action, food and drink specials, live shows, and much more.
"Spring is one of the most beautiful times to be in Atlantic City, and there's really so much to do throughout the destination during the month of March," says Karen Martin, Acting Director of Communications & Marketing for the Casino Reinvestment Development Authority (CRDA). "Whether it's celebrating St. Patrick's Day weekend, getting in on the college basketball action at one of our nine sportsbooks, or experiencing the world-famous Boardwalk, March is the perfect time to play in Atlantic City."
Get your green on this St. Patrick's Day with a flurry of festivities bookending the Friday, March 17 holiday – which, as luck would have it, falls on a Friday this year! Specials in the Celtic spirit include the following (for a full list, click here):
March 13-18: Celebrate the entire week of March 13 with St. Patty's Day pot of gold food and drink specials at Showboat. Don't miss the AYCE Pop-Up All You Can Eat Seafood Fest – Saint Patrick's Day Edition on Saturday, March 18.
March 17 & 18: Enjoy St Patrick's Day at the iconic Irish Pub, where Guinness will be on tap, in addition to a mouth-watering menu, a wide selection of domestic and imported beers, and cocktail specials. Follow up with the historic establishment's legendary Bag Day celebration on Saturday, March 18, which will be hosted by Kelsey Grammer.
March 17 & 18: Come dressed in green and ready to party at this year's Shamrock Stroll: St. Patrick's Day Weekend Atlantic City Pub Crawl. Participating venues will feature live music an DJs, with exclusive food and drink specials.
March 17-19: An indoor/outdoor St. Patrick's Day weekend bash at The Yard at Bally's, featuring live music, food & drink specials, fire pits, and more.
March 17-20: Special Irish-themed menus and cocktails offered at VUE Rooftop Bar and Twenties Restaurant at The Claridge.
Atlantic City is also a slam drunk for March Madness action! Fans can get into the college hoops games all month long, watching the matchups on video walls and big screens and wagering on all the exciting NCAA games at one of Atlantic City's nine spectacular sportsbooks!
In addition to the St. Patrick's Day celebrations and March Madness excitement, multi-platinum superstar concerts, new dining experiences, spa specials, and picture-perfect Boardwalk strolls await – all just a short drive away!
Click here for more March happenings and special offers in Atlantic City.
Photo Caption: Thousands came out to welcome the Saint Patrick's Parade in Atlantic City on March 12, 2023. Excitement filled the air as enthusiastic crowds lined the world-famous Atlantic City boardwalk to cheer on the parade floats and participants.
# # #
About the Casino Reinvestment Development Authority
The only agency of its kind nationwide, the CRDA has used Atlantic City casino reinvestments as a catalyst for meaningful, positive improvement in the lives of New Jersey residents since 1984. Under the 2011 Tourism District Act, the Authority's mission evolved from statewide projects to becoming the state's key economic development agency for Atlantic City. CRDA's expanded responsibilities now include land use regulation, tourism marketing and clean and safe initiatives. The CRDA also oversees Historic Boardwalk Hall (the leading entertainment venue of its size in the country) and the Atlantic City Convention Center. In total, CRDA has invested nearly $2 billion in more than 400 projects statewide, of which $1.8 billion has been invested in Atlantic City, spurring business investments and expansions, and creating permanent jobs in the process. For more information about CRDA and our projects, visit www.njcrda.com, and follow us on Facebook and Twitter.
For complete Atlantic City tourism information, visit www.atlanticcitynj.com, and follow us on Facebook, Twitter, Instagram, and YouTube.