Life Is Now! Pamper Yourself This January in AC!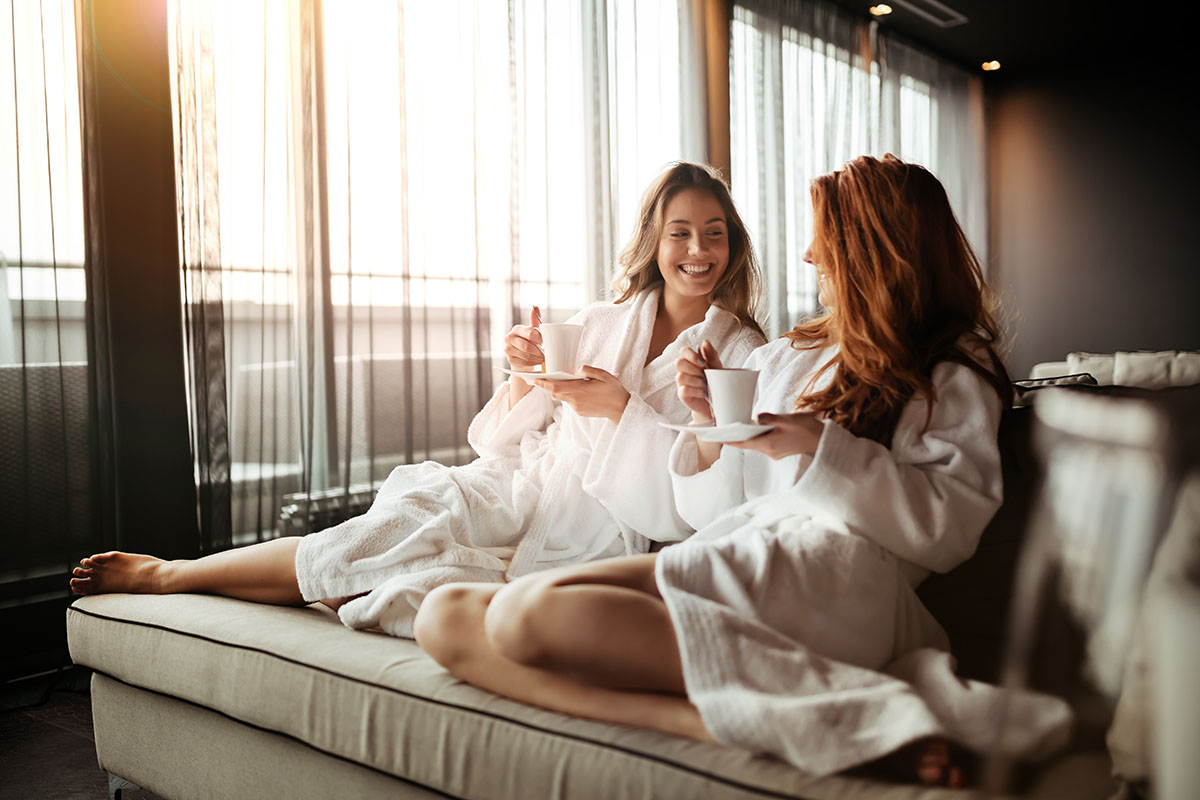 January 3, 2023
ATLANTIC CITY, NJ – (January 3, 2023) – Atlantic City's spas and wellness experiences take center stage all January long during the resort's annual spotlight on Wellness Month.
From hydrating milk washes and dark chocolate facials to apple blossom foot massages, bed & breakfast packages, and more, visitors can get pampered, refreshed, and rejuvenated to start the new year off on the right foot.
With self-care, stress management, and creating a healthy routine being so crucial to gaining a sense of renewal in the new year, in addition to extraordinary deals and discounts on restorative treatments at some of AC's top-rated spas, there are also relaxing hotel packages and amenities to help you feel your very best in 2023!
"Atlantic City is the ideal relaxation destination any time of year, especially during Wellness Month when visitors can kick the new year off with some truly amazing deals and specials," said Karen Martin, Acting Director of Communications & Marketing for the Casino Reinvestment Development Authority (CRDA). "From discounted spa treatments and special room packages to the tranquil sounds of the ocean and all of our amazing entertainment, Atlantic City is the ultimate January escape to set the tone for your new year."
Take charge of your wellbeing and treat your mind, body, and spirit with some of the spa-tacular specials throughout the resort, including nourishing massages, detoxifying facials and pedicures, and other luxurious wellness treatments and package deals.
The invigorated, relaxed, and amazingly restored you will be grateful you did!
Some of these transformative January Wellness Month deals include:
Bally's Atlantic City 
Bally's Atlantic City strives to provide wellness through comfort foods, inviting atmospheres, hotel packages, and relaxing amenities. Try a Bed and Breakfast Dining Package valid for stays now through April 28. Treat yourself to a relaxing night and reward yourself with a comfort breakfast at the Casino Café & Grille! Looking for an extended stay? Try the Stay and Dine Room Package with an inviting hotel
room and a dining comp to one of Bally's classic dining options such as The Yard, Guy Fieri's Chophouse, Jerry Longo's Meatballs & Martinis, and more! Hotel guests of Bally's have complimentary access to enjoy the lush and peaceful atmosphere of Bally's Pool and Fitness, open Saturdays and Sundays.
Borgata Hotel Casino & Spa
Borgata Hotel Casino & Spa is offering full wellness experiences in January, with Wellness Packages starting at $319. Choose from four different packages that combine Borgata's renowned hospitality offerings with spa days, clean eating, and an overall relaxation experience. Borgata's Spa Toccare is offering exclusive specials, including a Spa Month Special Massage for $120. The Toccare Escape Package starts at $369 and provides luxury and relaxation all in one! Choose a 50-minute custom massage or body wrap, pair it with a 50-minute classic facial, and finish it off with a manicure, pedicure, or a signature shave.
Golden Nugget
A visit to the Spa & Salon at Golden Nugget is the perfect way to slow down, live in the present, and experience each moment as it passes! Try one of these soothing $105 winter spa specials today! Midnight Merry Magical Facial engages with a luxurious dark chocolate and CoQ10 enzyma mask. Skin is then treated to a wonderful array of vitamins in Wine Down resveratrol-rich serum before the clock strikes midnight! The Holiday Relief Massage includes being drizzled in antioxidant-rich body oil, scented with notes of buttery gingerbread and then a relaxation massage with notes of crisp apple cider enveloping you as a steaming hot hand wrap.
Hard Rock Hotel & Casino
Free your mind at Rock Spa & Salon at Hard Rock and experience total wellness with clean ingredients and all-natural, hemp-derived CBD. Reduce stress, tension, stabilize mood and improve the health and appearance of your skin! Available through January 31st, 2023, try a Free Your Mind Body Treatment ($115) to exfoliate and repair dry skin; a Free Your Mind Facial ($115) with Kaolin and Purple Brazilian Clay to pull toxins and mildly exfoliate the skin; and a Free Your Mind Pedicure ($60) with Coconut Oil and Shea Butter to protect your nails, making them stronger and healthier.
Harrah's
The Spa at Harrah's features an extensive menu of amenities, inviting you to indulge in relaxation and wellness. Enjoy luxe esthetic services, customized body treatments, and much more! During Atlantic City Wellness Month you can book a Mini Massage with CBD or a Mini Facial with CBD each for only $100 just mention Spa Month when booking. Enjoy a 25 minute massage aimed to provide natural relief from inflammation, muscle tension, joint pain, stress and anxiety as it enhances your overall relaxation and well-being. The 25 minute facial with CBD (no extractions) can help to address skin inflammation, acne scarring and aging skin. *Price does not reflect tax or gratuity and is based on availability.
Caesars
Qua Baths & Spa at Caesars is a luxurious retreat that taps into the natural, healing powers of water to bring you a one-of-a-kind experience. Discover treatments to indulge, refresh, and renew. During Atlantic City Wellness Month enjoy a 25 minute Reflexology with CBD for $100. Skilled manipulation of reflex points on the feet that correspond with other areas of the body – aimed to improve energy and reduce stress. The CBD oil will help with inflammation and muscle tension and your overall feeling of relaxation. Relax and Unwind with a 50 minute spa service. Choose from Sugar Body Exfoliation, Full Body-Swedish Massage, or a Classic Facial. Available on Mondays, Thursdays, and Fridays. *Price does not include tax or gratuity. This offer cannot be booked online. Must call to book with spa. Call 609-343-2400.
Take care of your hair, makeup, nail, waxing and skincare treatment needs at The Salon at Caesars. Thursday and Sunday only schedule a haircut and color service and receive 15% off your services. Schedule a Classic Manicure and Classic Pedicure and receive 15% off your services. *Must mention this offer at time of booking. Available with select technicians and based on availability.
Tropicana Atlantic City
Sea Spa inside Tropicana draws inspiration from the nourishing and healing properties of the sea and salt to restore the body's perfect balance. The spa is offering 10% off any service for Atlantic City Wellness Month. Just mention 'Wellness Month' when booking!
Breathe… Salt Spa in the Quarter – Experience various calming and soothing spa treatments such as a Strawberry-Lavender Himalayan Pure Clarifying Facial that begins with a hydrating milk wash that soothes and calms the face. Exfoliate the skin with a rice powder, strawberry extract, witch hazel, clay, and organic lavender bud mask. While your mask is setting, you will receive a hand or foot scrub with the Salt of your choice! You'll feel on top of the world! (50 minutes for $85.00!)
Ocean Casino Resort
Exhale Spa + Bathhouse Named as Spas of America's #1 New Jersey Casino Spa and #2 Spa in the Garden State, Exhale's transformational spa and wellbeing programs can be experienced within 40,000 square feet of dedicated resort space. At the core of this breathtaking sanctuary is an expansive 3,000-square-foot coed bathhouse, ideal for relaxation, detoxification, and socialization. Experience the brand-new Hot Stone and Crystal Wand Facial; the revolutionary technique will smooth, soften, moisturize, brighten, and soothe your skin, while evening skin tone, minimizing pores, reducing dark spots, acne, fine lines, and wrinkles. Ideal for all ages and skin types. Try this fabulous treatment for 50 minutes at $290 or a soothing 80-minute experience for $335!
For a complete listing of Atlantic City Wellness Month deals and discounts, visit
https://www.atlanticcitynj.com/stay/deals-packages/wellness-month/.
# # #
About the Casino Reinvestment Development Authority
The only agency of its kind nationwide, the CRDA has used Atlantic City casino reinvestments as a catalyst for meaningful, positive improvement in the lives of New Jersey residents since 1984. Under the 2011 Tourism District Act, the Authority's mission evolved from statewide projects to becoming the state's key economic development agency for Atlantic City. CRDA's expanded responsibilities now include land use regulation, tourism marketing and clean and safe initiatives. The CRDA also oversees Historic Boardwalk Hall (the leading entertainment venue of its size in the country) and the Atlantic City Convention Center. In total, CRDA has invested nearly $2 billion in more than 400 projects statewide, of which $1.8 billion has been invested in Atlantic City, spurring business investments and expansions, and creating permanent jobs in the process. For more information about CRDA and our projects, visit www.njcrda.com, and follow us on Facebook and Twitter.
For complete Atlantic City tourism information, visit www.atlanticcitynj.com, and follow us on Facebook, Twitter, Instagram, YouTube, and TikTok.