Atlantic City Restaurant Week Returns With Really Delicious Dining Deals Oct. 1-6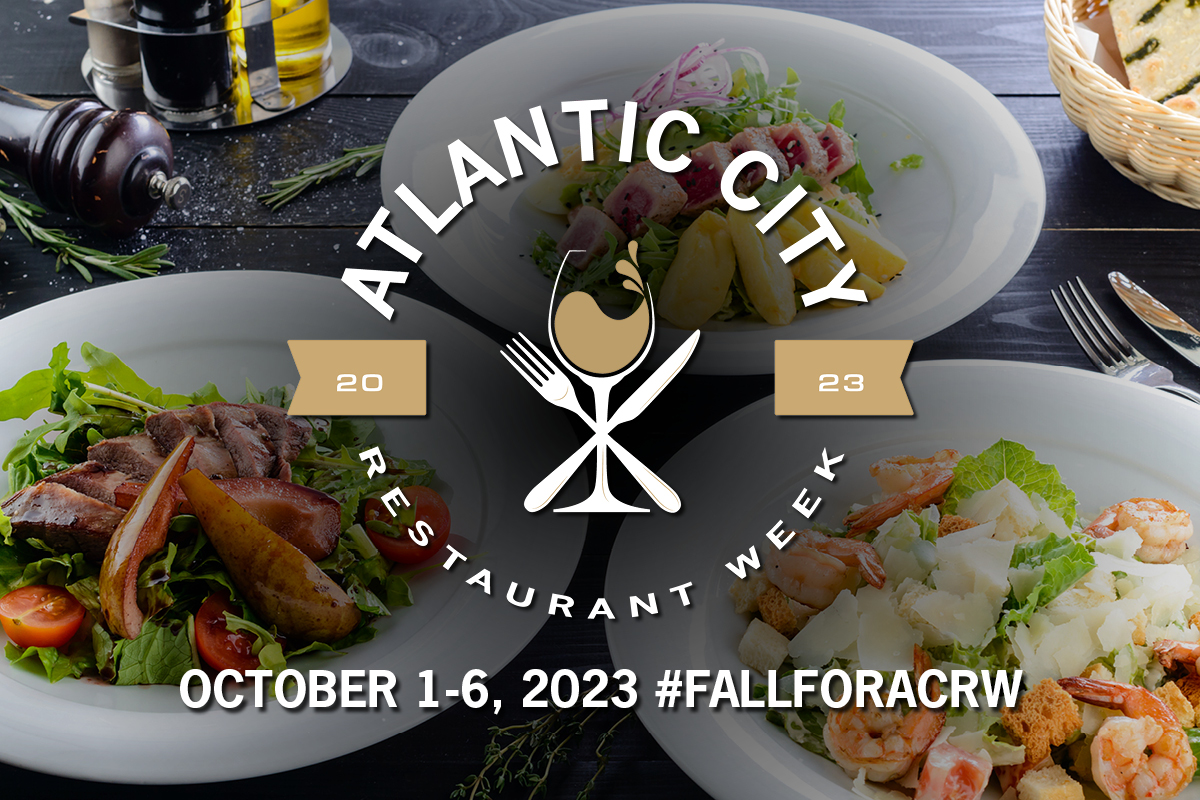 September 20, 2023
ATLANTIC CITY, NJ (SEPTEMBER 20, 2023) – The eagerly awaited Atlantic City Restaurant Week returns this fall for its 15th year, offering visitors dining deals at over 50 restaurants in Atlantic City and the surrounding area. The region's iconic culinary celebration of its diverse dining scene runs from Sunday, October 1, to Friday, October 6, 2023.
This year's Atlantic City Restaurant Week features exceptionally priced three-course prix fixe menus at $20.23 for lunch and $40.23 for dinner. Showcasing the best in local flavors, authentic AC dining experiences, and eclectic menus, the six-day event gives visitors the opportunity to experience a wide range of cuisine and try some of AC's landmark restaurants (Dock's Oyster House, Knife & Fork Inn) and newest spots (Cardinal, Good Dog, La Strada at the Shore, Linguini by the Sea, Superfrico at The Hook).
Many of the area's finest and most popular restaurants participate in the event, offering diners delicious meals all week long. Tax, gratuity and beverages are not included. All meals are value priced and would normally cost significantly more.
"Atlantic City Restaurant Week has become one of the most popular dining events in the region," said Karen Martin, Director of Communications & Marketing for the Casino Reinvestment Development Authority (CRDA). "We are proud to offer this signature culinary experience to our visitors for another fall, one of the most amazing times of the year to enjoy Atlantic City – just a short drive away!"
During Atlantic City Restaurant Week, area restaurants take advantage of fresh, seasonal food and produce when designing their menus. From fine dining to more casual fare, the event will feature seafood, steakhouses, celebrity chef restaurants, gourmet Italian, Asian fusion, authentic Mexican, and more. Whatever your taste, there is a Restaurant Week menu for everyone to enjoy.
There are also eateries participating in Restaurant Week for the first time, including Chickie's & Pete's at Tropicana and the recently opened Provenza Restaurant in Ventnor.
Visitors can go to the official website at ACRestaurantWeek.com to see an updated list of participating restaurants, view lunch and dinner menus, and book reservations. You can also follow AC Restaurant Week on Facebook and Instagram for the latest news and updates.
In connection with Atlantic City Restaurant Week, one lucky winner will receive a complimentary two-night stay at Borgata Hotel Casino & Spa, dining and spa credits, and dinner for two during Atlantic City Restaurant Week. You can enter the giveaway at AtlanticCityNJ.com.
You can also share your experiences and help the event continue to improve by responding to a short confidential survey. Respondents will be entered into a drawing for Atlantic City Restaurant Week promotional dinner cards!
Atlantic City Restaurant Week is produced by the CRDA. Sponsors include Stockton University, 95.1 WAYV, Greater AC Chamber, Interstate Outdoor Advertising, Open Table, The Press of Atlantic City, and Smithfield Culinary.
# # #
About the Casino Reinvestment Development Authority
The only agency of its kind nationwide, the CRDA has used Atlantic City casino reinvestments as a catalyst for meaningful, positive improvement in the lives of New Jersey residents since 1984. Under the 2011 Tourism District Act, the Authority's mission evolved from statewide projects to becoming the state's key economic development agency for Atlantic City. CRDA's expanded responsibilities now include land use regulation, tourism marketing and clean and safe initiatives. The CRDA also oversees Historic Boardwalk Hall (the leading entertainment venue of its size in the country) and the Atlantic City Convention Center. In total, CRDA has invested nearly $2 billion in more than 400 projects statewide, of which $1.8 billion has been invested in Atlantic City, spurring business investments and expansions, and creating permanent jobs in the process. For more information about CRDA and our projects, visit www.njcrda.com, and follow us on Facebook and X.
For complete Atlantic City tourism information, visit www.atlanticcitynj.com, and follow us on Facebook,  Instagram, X, and YouTube.
For more information, please contact:
Karen Martin, 609-449-7154 [email protected]
Phyllis Lacca: 609-344-2400 x204 / cell 609.214.7870
Ben Morris: 609-344-2400 x202 / cell 609.502.6917 [email protected]