Airshow Underscores AC's Efforts To Diversify Economy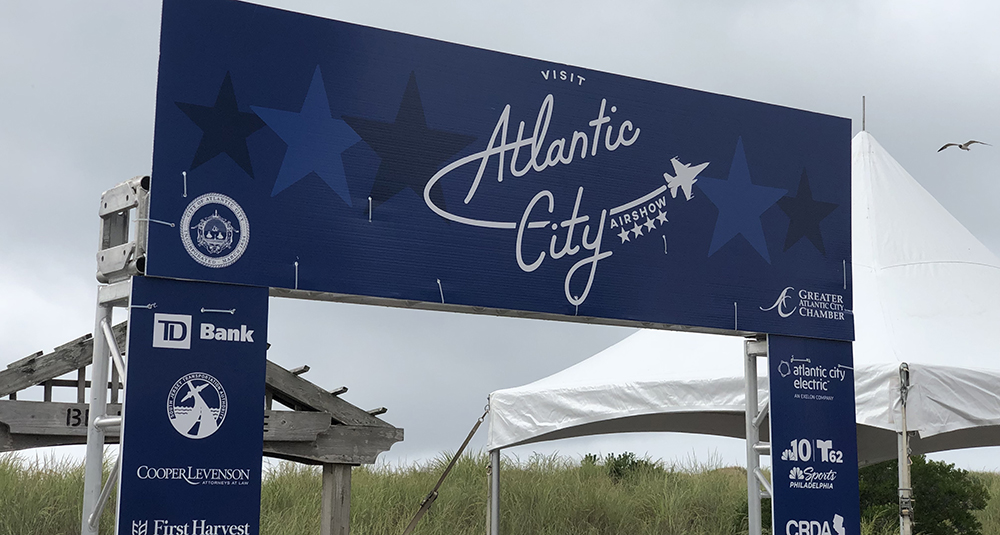 August 21, 2023
ATLANTIC CITY (August 21, 2023) – As planes roared overhead and skydiving teams dazzled the crowd packing the beaches for last week's Visit Atlantic City Airshow, the event – celebrating its 20th year in the resort town – showed off the city's greatest asset as it looks to continue expanding its non-gaming activities and diversifying its economy.
"Planes are flying. Beaches are packed. The restaurants, the hotels are packed," Michael Chait, Greater Atlantic City Chamber president and airshow organizer, told NJBIZ. "The city's absolutely been buzzing because the city went from TidalWave [Music Festival] and the triathlon right into the airshow. So, this is a huge week. It gives us a really unique opportunity to introduce a wide range people to the world-class hospitality we have."
The Atlantic City Airshow, produced by the Greater Atlantic City Chamber, in coordination with David Schultz Airshows LLC, features military performance and demo teams, along with top civilian performance teams, aircraft and helicopters from across the country, including long-time fan favorites such as the U.S. Army Golden Knights, the 177th Fighter Wing of the New Jersey Air National Guard, U.S. Air Force Thunderbirds and others.
While the show is an annual event, it highlights the potential the city has in terms of its ability to combine the gaming industry with non-gaming entertainment and options that are family-friendly and leverage the beachfront.
Diversifying the local economy is essential for its evolution as regional competition grows. And as internet gaming becomes more prevalent, fewer bettors will likely travel to the city's hotels, restaurants and other establishments. That dynamic makes events like the airshow vital.
"It introduces new people to the destination that may have never come here before," Chait explained. "It reintroduces the destination to people that haven't been here in a long time. But even from a local perspective, this is an event a lot of people can take a lot of pride in."
Chait, who was born and raised in Atlantic City, pointed out that the resort has always been event driven.
"You have incredible entertainment at the casino properties," he said. "You have Boardwalk Hall. You have the Atlantic City Convention Center that brings in people from all over the place. All of this is an enormous opportunity to keep bringing people back. The economic stimulus is huge."
Official figures on this year's airshow's economic impact and attendance were not immediately available. Last year's show drew a record 550,000 spectators to the beaches, spurring an estimated $70 million or more in overall regional economic activity.
While he has been involved with organizing and coordinating area events for more than two decades, Chait stressed that he has never been humbler about this event because of the collaboration necessary from all stakeholders – sponsors, organizers, city and other officials, public safety, the military, and others.
"You have all these moving parts that come together to pull off this monstrosity of an event," Chait explained.
The evidence on the ground suggests that the city is coming together to leverage those natural assets and strengths amid economic headwinds. "I feel like we're all pulling that way. We all see the challenges and opportunities we have here as a destination," said Chait. "New York gaming is coming. Our destination has to continue to grow and evolve beyond a gaming destination. Everybody has gaming now. So, what else does this destination become?"
Just before the Fourth of July holiday weekend, Visit Atlantic City and the Atlantic City Sports Commission announced a strong second quarter with 22 events, conventions and conferences generating some 23,320 room nights booked and more than 150,000 attendees – for an economic impact of over $50 million. In a statement, officials noted the excitement anticipated in Q3 with nearly 20 major events, conventions and competitions, such as the airshow, triathlon and music festival. In addition, three casinos are celebrating milestones – including Borgata marking its 20th anniversary while Ocean Casino Resort and Hard Rock AC each turn five – with events, giveaways and celebrations taking place throughout the summer.
That is in addition to the casino redevelopment and reinvestment projects around the city and the high-profile openings of more non-gaming attractions, like the $100 million Island Waterpark at Showboat and Spiegelworld's The Hook, which debuted in June as the only permanent live entertainment destination in Atlantic City.
"As the ultimate sun, fun, beach and Boardwalk destination, summer is always an exciting time in Atlantic City," said Larry Sieg, president and CEO of Visit Atlantic City, earlier this summer. "With a host of newly opened restaurants and attractions beckoning visitors, in addition to all the major events taking place, we are expecting a jam-packed season."
"We all want Atlantic City to be the very best tourist destination in America," Mark Giannantonio, president of the Casino Association of New Jersey and president and CEO of Resorts Casino Hotel, told NJBIZ in June. "And it starts at the top. I think the governor sets the tone. And he really has emphasized and expects Atlantic City to continue to evolve. Forget about all the competition and the threats. We have to evolve. It started a few years ago and it's going to take a few years still. But the one thing I will tell you is the casinos and the ownership of the casinos and the companies have really stepped up and they're putting their money where their mouth is. And it's major investment here in Atlantic City."
"Atlantic City is a world-class resort," Jane Bokunewicz, faculty director of the Lloyd D. Levenson Institute of Gaming, Hospitality, & Tourism at Stockton University, told NJBIZ. "It is important to remind people, both inside and outside of the city, of that in case they've forgotten. Reinvestment is the reminder that we're still here, still providing a top gaming, and nongaming product."
The day before the airshow, which was Practice Day, Gov. Phil Murphy, lawmakers, officials and other stakeholders were on hand at Boardwalk Hall for the signing of bipartisan legislation (Senate Bill 3989/Assembly Bill 5675) – passed alongside this year's state budget – establishing a $100 million Boardwalk Preservation Fund for the renovation and repair of boardwalks in communities up and down the Jersey Shore.
Applications are open for the program, which will be run through the Department of Community Affairs, until Oct. 31.
"From Atlantic City to Asbury Park, for decades our state's boardwalks have served as iconic fixtures in our shore communities, contributing not just to their local economies but to their unique histories and cultural fabric as well," said Murphy. "Maximizing the potential of our boardwalks requires robust, forward-looking investments that will prepare them to endure the test of time and the intensifying impacts of the climate crisis. I'm proud to build upon Lt. Gov. [Sheila] Oliver's legacy as a champion of Atlantic City while we stand alongside elected officials on both sides of the aisle in support of these invaluable community assets."
"Boardwalks are a key economic driver for the state," said Sen. Michael Testa, R-1st District, a prime bill sponsor. "The Boardwalk Preservation Fund will help our coastal cities preserve and maintain these iconic tourist locations for generations to come."
In his remarks during that event, Sen. Vince Polistina, R-2nd District, spoke about how important it was for everyone to be on the same page and nonpartisan regarding Atlantic City and the surrounding communities. "The team from Trenton has been so incredibly bipartisan working with us here in Atlantic County, not just on this fund, but on every topic you can imagine," said Polistina. "It really is an incredible testament."
That sentiment was echoed by Atlantic City Mayor Marty Small Sr., a Democrat, who noted that despite the state's continued oversight and decision-making role in Atlantic City – stemming from legislation that Murphy signed in 2021 extending that state control – that the two sides are working as one.
"If you read the legislation, it is ugly," said Small last week at that bill signing. "It means people like myself and other elected officials would be just figureheads. However, early on in his campaign for governor, he used the term 'bigfoot' – that Atlantic City would not be bigfooted by the State of New Jersey. And I'm here to tell everybody today that the partnership is working. And under his leadership, Atlantic City has not been bigfooted. People like myself and the city council can make our own decisions. And that's kudos to you, Gov. Murphy, because if you honored the letter of the law, a lot of the things that we do wouldn't happen. But because you've been the best governor for the Great City of Atlantic City, you now have a municipality that is thriving, that is getting things done."
Chait said at the heart of these efforts to bring everyone together is, simply, that everyone is not just talking. "Everybody is really listening and they're taking those small steps and looking at the bigger picture of what our destination becomes. What is our identity," Chait asked. "For years, we've been an adult destination – gaming, nightlife, entertainment, restaurants. We're an adult destination. But now you're starting to see some family aspects. You're having all these pieces come together."
The efforts have been inspiring, reinvigorating and rejuvenating for Chait. And nothing reflected the current feeling around Atlantic City more than the airshow, which offered ample opportunity and business for everyone to get their share — both in the city and the surrounding communities.
"We love how the region is being pulled together," said Chait.
By: Matthew Fazelpoor
NJ BIZ
Source: https://njbiz.com/airshow-underscores-efforts-to-diversify-acs-economy-slideshow/