48 Blocks Atlantic City: From The Boardwalk to the Bay Kicks Off on Memorial Day Weekend at The Garden at Cardinal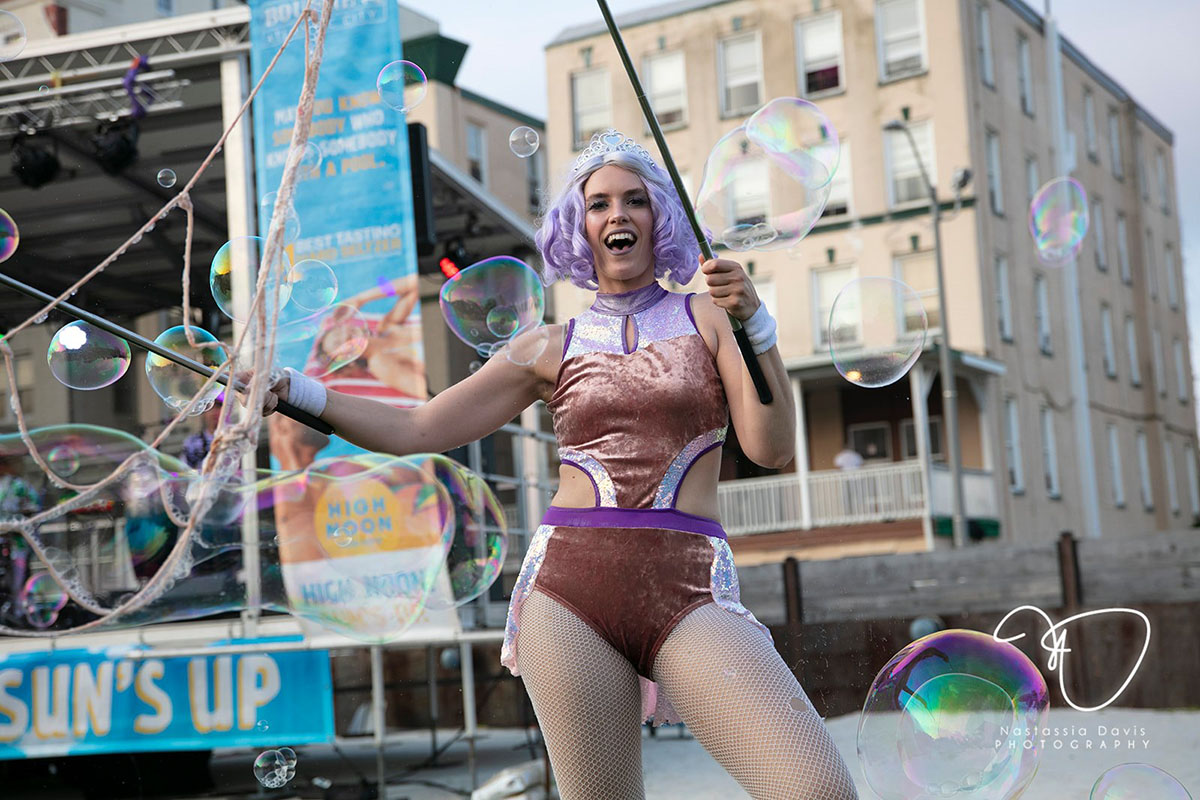 May 18, 2023
Atlantic City, NJ (May 17, 2023) – 48 Blocks Atlantic City, the flagship program of the Atlantic City Arts Foundation, will kick off on Friday, May 26 at noon with an outdoor party at The Garden at Cardinal, located at 201 S. New York Avenue. The weekend-long event will feature live music throughout the day and into the evenings, caricature drawings by Maria Biebel, face painting by Heather Deegan-Hires, and the joyful bubble-stylings of Tina Notaro. Christian Correa, a local artist and server at Cardinal, was selected to create the restaurant's first mural and will be live painting between noon–3 pm daily, on the standalone shipping container in The Garden.
48 Blocks AC spans the city's 48 blocks from the Boardwalk to the Bay with arts and cultural events and a robust mural arts program, running from May 26–June 30, 2023. In addition to the kick-off party, Cardinal will host a four-course fundraising dinner with a cocktail pairing on June 20, with each course inspired by a 48 Blocks AC muralist. Mural Week will return June 19–23 with 3 muralists creating concurrently throughout the city and community projects will be hosted at four locations during the event weekend, June 24 & 25. Jitney mural tours will be available throughout the event weekend.
"We are excited about the programming this year, especially the partnerships we've fostered with local businesses. We've built out something special that will support local artists, celebrate the city, and engage our community. We can't wait for you to experience all 48 Blocks AC 2023 has in store!" shared Kate O'Malley, interim executive director of ACAF.
Celebrate the diversity, creativity, and culture of Atlantic City with 48 Blocks AC this summer. Events are free unless otherwise noted.
48 Blocks AC Garden Party – May 26–29, noon–10 pm – The Garden at Cardinal
Enjoy live music & entertainment; live mural painting noon–3 pm
Hayday Coffee Community Canvas with North2Shore – June 5–11, 11 am­–4 pm, Hayday Coffee
Participate in an interactive mural led by Christian Correa and Heather Deegan-Hires, presented in partnership with North2Shore and Hayday Coffee
48 Blocks AC Mural Week – June 19–23
Watch as two murals are created in Bungalow Park and one in Ducktown
Dinner at Cardinal – June 20, 6 pm – Cardinal – $125
Enjoy a four-course meal with cocktail pairings, inspired by 48 Blocks AC mural artist.
Rock the 48 Blocks – June 22, 6 pm – Anchor Rock Club ­– $15
DJ Samwas and Red Meat Conspiracy back-to-back all night long
48 Blocks AC Event Weekend – June 24 & 25
Free interactive community programming; Saturday 11 am–2 pm, Dover Avenue Park, 2 pm–5 pm, Noyes Arts Garage of Stockton University; Sunday 11 am–3 pm, Browns Park, 4–7 pm, Gardner's Basin
Chelsea Club Mural – Kicks off June 26 – Boys & Girls Club of Atlantic City, Chelsea Club
Ocean Casino Resort Birthday Mural ­– June 30 – Tennessee Avenue Beer Hall
Artists Randi Meekins & Shari Tobias will create a mural featuring the ocean and native sea life
ACAF has partnered with five local businesses to offer specials throughout the month of June. Visit Bar32 for the 48 Blocks AC signature chocolate bar–a 60% dark chocolate bar with rainbow nonpareils. Hayday Coffee is featuring "The Palette Refresher," a color-changing butterfly pea lemonade and Little Water Distillery will serve "The 48," 48 Blocks Vodka, lemon, lime, and mint. Cardinal and Good Dog Bar will also offer special cocktails. A portion of the proceeds will be donated in support of 48 Blocks AC.
In July, 47 Adirondack chairs & planter boxes will be created and installed throughout Atlantic City as part of the ongoing beautification project in partnership with the Special Improvement Division of the CRDA, reinvigorating the Boardwalk and public parks with functional public art.
48 Blocks AC 2023 is supported by grants from the CRDA and TD Bank Foundation, a donation from Phish's WaterWheel Foundation, program sponsors Ducktown CDC, Atlantic Shores Offshore Wind, Chelsea EDC, Midtown in Motion, Everest Dispensary, Boardwalk Resorts, Cindy Owen, David & Hallie Satz, and partner Noyes Museum.
Applications to create projects for the event weekend are open through May 26: acartsfoundation.org/apply.
Learn more about 48 Blocks AC 2023 at acartsfoundation.org/celebrate.
###
The Atlantic City Arts Foundation's diverse programs & partnerships activate community pride & civic self-esteem through interaction with public art, including the city's largest mural arts program. ACAF is dedicated to increasing public art access and fostering community art appreciation in Atlantic City, NJ. Programs include 48 Blocks Atlantic City, Chalk About AC, and ARTeriors. ACAF is a 501(c)3 non-profit organization.
Learn more: atlanticcityartsfoundation.org
For Information Contact:
Kate O'Malley
[email protected]
(856) 217-1823