Lt. Gov. Sheila Oliver Dies At 71; Was Guiding Hand In State Takeover Of Atlantic City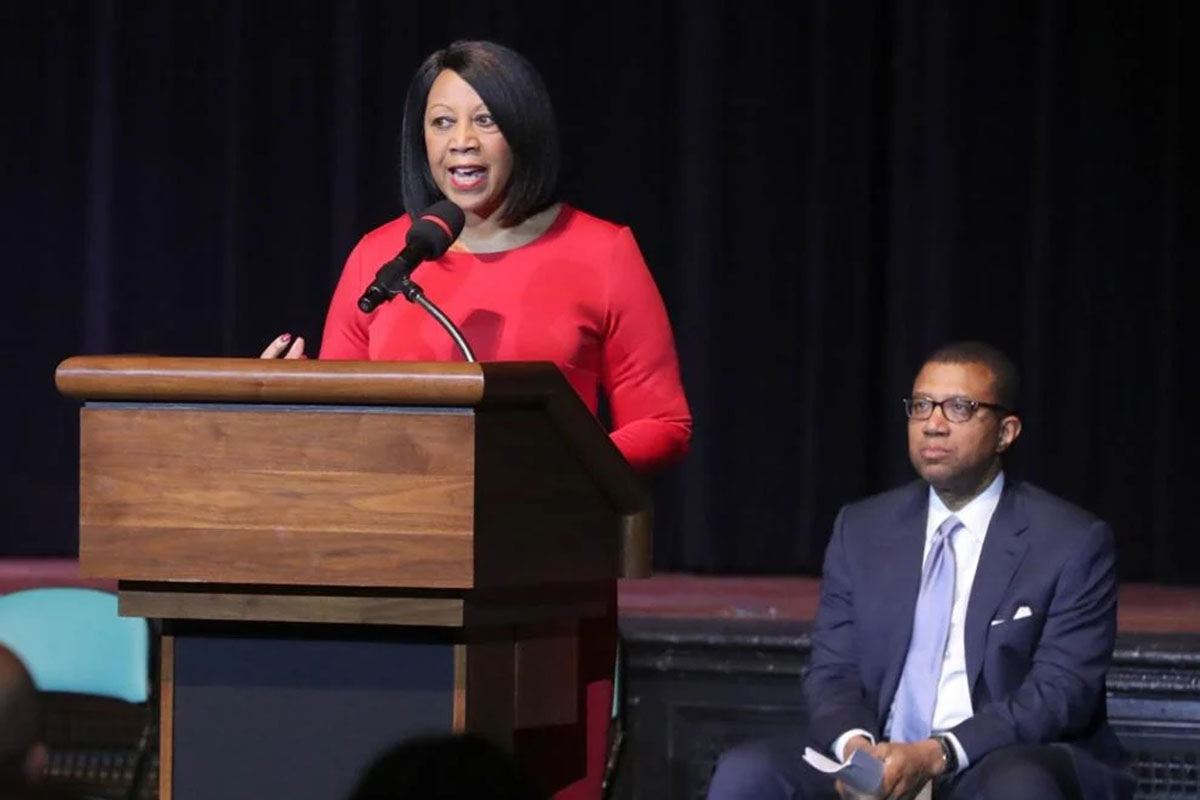 August 4, 2023
Atlantic City (August 1, 2023) – Lt. Gov. Sheila Oliver, who made history as the first Black woman to serve as speaker of the state Assembly, died Tuesday. She was 71.
A cheerleader for Atlantic City — she often quipped she intended to retire in the resort — Oliver has overseen the state takeover of the city since January 2018. It was part of her job as commissioner of the Department of Community Affairs.
Mayor Marty Small Sr. said he was feeling Oliver's loss personally, the emotion clear in his voice.
Oliver served as Democratic Gov. Phil Murphy's top deputy, stepping in for him while the governor was out of state. He was expected to return Aug. 13.
No cause of death was given, Murphy's office said in a statement.
Oliver first opposed the state takeover of the resort under Gov. Chris Christie, and stood with city leaders on the issue when she was in the Assembly, Small said.
Then she supported him when he became mayor and the takeover was a done deal.
"She told me, 'You've got your shot. I'm going to support you in every way possible,'" Small said.
That included overriding a City Council "no" vote on creating a city division of youth, recreation, senior and multicultural services, he said.
"The city had voted it down and the LG stood behind me and said the city should have these services," Small said, adding Oliver was particularly concerned about seniors.
Small said he expects Jacqueline Suarez, head of the Division of Local Government Services, to continue helping the city return to self-governance.
"One thing the LG didn't do was micromanage," Small said. "Jaqueline Suarez has been the person who carries the spirit of the LG."
Murphy's office announced Monday that Oliver was hospitalized while filling in for the governor, who was in Italy on a family vacation. She was admitted to Cooperman Barnabas Medical Center in Livingston with an undisclosed medical condition, the Governor's Office said, declining to elaborate.
In 2010, Oliver became the first Black woman to serve as Assembly speaker, before losing the position to Assemblyman Vincent Prieto in 2013.
She had served in the Assembly since 2004 and was on the Essex County board of chosen freeholders from 1996 to 1999. She was born and raised in Newark and has a sociology degree from Pennsylvania's Lincoln University.
"I was fortunate to serve with her twice," said state Sen. Vince Polistina, R-Atlantic. First when he was in the Assembly from 2008 to 2012, and then when he was elected to the state Senate and she was lieutenant governor.
"She was such a passionate advocate for what she believed in," said Polistina. "Every moment all she wanted was to figure out ways to make people's lives better."
While the two were in different parties and often disagreed on what needed to be done, he respected her passion, he said.
Oliver also served as a member of the Casino Reinvestment Development Authority board. Modia Butler, the chairman of that board, said Tuesday that her wisdom, her leadership and her focus will be irreplaceable and will be sorely missed.
"The lieutenant governor cared deeply about Atlantic City, the citizens of Atlantic City, the trajectory of Atlantic City," he said. "She was truly a champion for the city and a fierce advocate for the city."
Butler described Oliver as central to the Murphy administration's Atlantic City efforts.
"She was the face of the administration in Atlantic City," he said.
Atlantic City Council Vice President Kaleem Shabazz had known Oliver for 35 years and said he will miss her personally and professionally.
"I will forever remember her as a consummate public official," Shabazz said. "She was dedicated, focused, elegant and always prepared."
While she made history as the first woman of color to win statewide office, she was also down to earth and always focused on improving people's lives, he said.
As acting governor she signed a handful of bills, including a 2021 measure that established a pilot program to overhaul the state's juvenile justice system in four cities and that aimed to reintegrate young people into their communities.
Oliver was a compelling public speaker and frequent attendee at Murphy's bill signings and other events, where he typically introduced her as his "rocking" lieutenant governor.
In 2021 while unveiling tighter gun legislation alongside Murphy, Oliver's voice cracked as she lamented the gun violence that disproportionately affected cities in the state. Speaking in her native Newark, Oliver lamented what she suggested was runaway gun violence.
"We are tired of funerals and memorials," Oliver said. "Growing up in Newark, I tell young people I could go to any section of this city by myself or with my friends. Our young people cannot do that today."
She was twice elected lieutenant governor alongside Murphy beginning in 2017 and again in 2021. Oliver was just the second person to hold the post of lieutenant governor, a newer state government position that began under previous Gov. Chris Christie.
It was unclear who would immediately succeed her. The state constitution calls for the state Senate president to serve as acting governor if the governor and lieutenant governor are out of state or incapacitated.
Press of Atlantic City Staff Writers Bill Barlow and Michelle Brunetti Post contributed to this report.
Associated Press
Source: https://pressofatlanticcity.com/news/state-regional/government-politics/oliver-still-hospitalized/article_a0459174-3085-11ee-bdd5-3feeb632ffdb.html