CRDA Launches New Website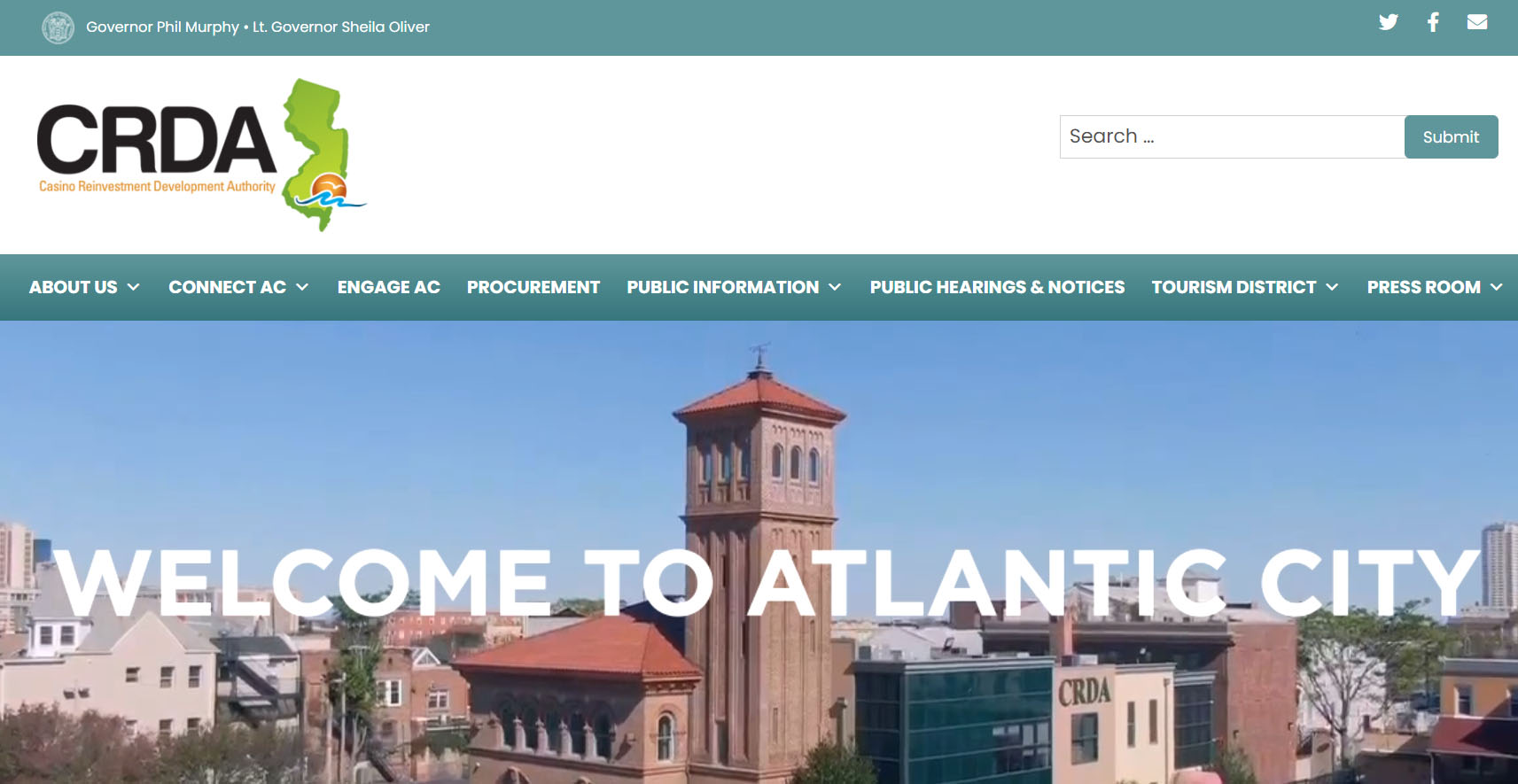 October 5, 2021
ATLANTIC CITY, NJ (October 5, 2021) – The New Jersey Casino Reinvestment Development Authority (CRDA) today launched a new website at www.njcrda.com.
"The CRDA's new website is a great tool for the community, developers, and the Tourism District," said CRDA Board Chairman Mo Butler. "It's very user-friendly and organized, allowing for faster access to important information."
The CRDA team worked with Dynamic Advertising Design in Smithville, NJ to develop the new site.
Among the highlights of the site is the "Engage AC" platform. "Engage AC" is the CRDA's online GIS & data website. On here, users will find a variety of information specific to Atlantic City. The CRDA's mission focuses on both economic and community development projects within Atlantic City. This platform breaks down key data and demographic points. The GIS data featured here comes from the US Census Bureau's American Community Survey 2014-2018 5-Year Data Profile.
Another highlight is the "Connect AC" calendar of events. "Connect AC" contains all community and business events in one convenient calendar.
"CRDA's website is now intuitive, streamlined and efficient," said CRDA Executive Director Matt Doherty. "The goal is to have user-friendly access to public information and funding applications available in an organized and easily navigable manner."
The website also functions as an access point for the Tourism District Master Plan, Land Use regulations, certificate of Land Use compliance and a reference for CRDA development projects. Users will also be able to pay Special Improvement Division (SID) assessments and view available procurement opportunities and public hearing information, as well as featured news and the Authority's press releases.
# # #
About the Casino Reinvestment Development Authority
The only agency of its kind nationwide, the CRDA has used Atlantic City casino reinvestments as a catalyst for meaningful, positive improvement in the lives of New Jersey residents since 1984.  Under the 2011 Tourism District Act, the Authority's mission evolved from statewide projects to becoming the state's key economic development agency for Atlantic City.  CRDA's expanded responsibilities now include land use regulation, tourism marketing and clean and safe initiatives. The CRDA also oversees Historic Boardwalk Hall (the leading entertainment venue of its size in the country) and the Atlantic City Convention Center.  In total, CRDA has invested nearly $2 billion in more than 400 projects statewide, of which $1.8 billion has been invested in Atlantic City, spurring business investments and expansions, and creating permanent jobs in the process. For more information about CRDA and our projects, visit www.njcrda.com, and follow us on Facebook and Twitter.
For complete Atlantic City tourism information, visit www.doatlanticcity.com, and follow us on Facebook, Twitter, and Instagram.